Leicester to host
'Christmas on the
Common'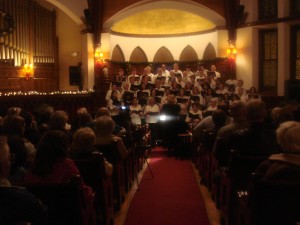 LEICESTER — Leicester's 20th annual Christmas on the Common will be held on Saturday, Dec. 3rd.
The Tree Lighting at the Bandstand will start at 6 p.m. with some caroling at the band- stand to be continued inside the historic First Unitarian Church on the Common.
At 7 p.m. a free Christmas Concert will begin at the First Congregational Church, also on the Common. The concert program features the choral cantata "Christmas is Forever" a Christmas musical presented by the Christian Community Choir. A collation follows by the Women's Association of the Church.
This is the 20th year of celebrating Christmas on the Common. It is a collaboration of the Bandstand Committee, the Leicester Historical Society, and the Music Committee of the First Congregational Church on the Common. It is always held on the first Saturday in December — a kickoff to the holiday season.
The Bandstand Committee and members of the Summer Concert Series Committee team up to spruce up the Bandstand, making sure all lights are work- ing, etc., and set up a tree and get it wired with lights for the evening.
The 7 p.m. performance at the First Congregational Church will feature more than 50 vocalists from 16 local churches. They represent choirs from St. Aloysius-St. Jude Parish, Covenant Evangelical Church, Journey Community Church, St. Joseph's Parish, Brookfield Congregational Church, Mary, Queen of the Rosary Church, St. John the Baptist, East Brookfield Baptist Church, Epworth United Methodist Church, First Congregational Church of Leicester, Lowell Assembly of God, Our Lady of the Sacred Heart, St. Anne's, First United Methodist Church of Spencer, North Brookfield Congregational, First Congregation Church of Spencer.
If you enjoyed this post, please consider to leave a comment.