Annual Events
Strawberry Hill Fair
Our annual Strawberry Hill Fair is traditionally held the second Saturday in November.


Harvest Fair
The Harvest Fair is an annual event held on the Leicester Town Common every fall, sponsored by the Leicester Arts Council. It is traditionally the 3rd Saturday in Sept.  The First Congregational Church opens is doors for indoor events and also has it's own booth.   Click here for more details
Christmas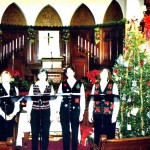 Advent Services begin the first Sunday in December. An advent candle is lit each week, leading up to Christmas Sunday.
On Christmas Eve a special service including carols and candle lighting is held to celebrate Christmas Day.
The church also participates with the town lighting of the tree on the Leicester Common.  After the lighting, everyone is invited into our church for refreshments and a Christmas carol sing a long.  This is sponsored by the Leicester Arts Council.
Bunny Day "Eggstravaganza"
The whole community is invited to our Bunny Day Eggstravaganza, a fun filled day of activities, including a visit from the Easter Bunny and the ever popular outdoor egg hunt.